Are you clear on what your strengths are? Do you focus on your strengths in your business? Did you know that the more you work in the arena of your strengths the happier you will be? Can you identify other WIN member's strengths?
Have you had one of those days when you are working on tasks you don't like to do and you get frustrated? When that happens to me, I seem to always turn to one task to make me "feel better". I work on a newsletter. I love newsletters. I love creating the content, designing the layout, working with others on communication. I work on newsletters because it allows me to use many of my identified strengths.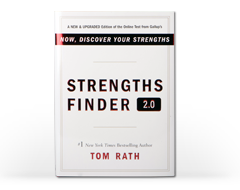 I have taken Gallup's StrengthsFinder.com profile to learn my top 5 Strengths.
Have you taken the profile? There are several books about the profile you can check out like Strengths Finder 2.0 by Tom Rath or Now, Discover Your Strengths by Marcus Buckingham & Donald Clifton.
Knowing your strengths can help you determine when it's time to outsource tasks or hire an assistant. The point of the assessment is to bring your strengths to light and your career path should allow you to use your strengths. When you are using your strengths, you are happier and will find greater fulfillment from your business. It applies to your personal life as well.
There are 34 themes of StrengthsFinder. Some refer to the person, some a category, others a quality. Here's a list of the themes.
Achiever, Activator, Adaptability
Analytical, Arranger, Belief, Command
Communication, Competition
Connectedness, Context, Deliberative
Developer, Discipline, Empathy
Fairness, Focus, Futuristic, Harmony
Ideation, Inclusiveness, Individualization
Input, Intellection, Learner
Maximizer, Positivity, Relator
Responsibility, Restorative, Self-Assurance
Significance, Strategic, Woo
"Succcess follows doing what you want to do. There is no other way to be successful. ~Malcolm Forbes, publisher of Forbes magazine
If you'd like to explore your Strengths, call me. We can work on it together.
Michelle Aspelin, 952-484-6015
Mindshare Marketing & Implementation Services LLC