StrengthsFinder 2.0 – Using Your Talents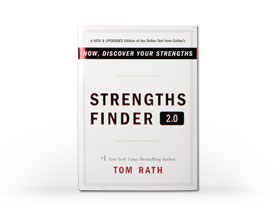 Have you taken the StrengthsFinder assessment yet? If you haven't, I highly recommend it!
The bookStrengthsFinder 2.0 by Tom Rath is a #1 Wall Street Journal and #1 BusinessWeek bestseller that introduced the StrengthsFinder 2.0 assessment with features that include a personalized Strengths Insight Report, an Action-Planning Guide, and a web-based Strengths Community.
The online assessment will bring your top 5 strengths or talents to the surface. Knowing these strengths is powerful as it can help you stay focused in your business and your personal life. It helps you understand what you like and what will make you happy!
My Top 5 are Activator, Communication, Ideation, Focus and Futuristic …
So, what does that mean?
You have to purchase the book to get the code to take the online assessment. The book explains all of the talents in great detail and what careers or roles you will be good at naturally. It suggests people to partner with who have opposite strengths to help you meet your goals. Knowing your strengths helps you focus on your business. Its fun to ask others what their talents are too.
If you fully understand with my Strengths are, then that will give you a clue as to the type of service I offer my clients.
Activator
"When can we start?" This is a recurring theme in my life. I thrive on action. Action makes things happen and leads to performance. Action is the best device for learning. I enjoy start-up or turnaround projects. I can transform innovative ideas into immediate action. I work with creative and innovative clients to help move their ideas forward. I can easily energize the plans my clients have already created or create a plan from scratch. I have the ability to create motion and momentum in others.
Communication
I like to explain, to describe, to host, to speak in public, and to write. I energize events and ideas to make them exciting and vivid. I believe most people have a short attention span, they are bombarded with information and very little survives. I want information I create with my clients – whether an idea, print material, website, a product's features and benefits, a discovery – to survive. I love blogs, newsletters, newspapers and online communication tools.
Ideation
I am fascinated by ideas and concepts. I am always looking for connections, I am energized by connecting people and fulling their needs for one another. I get a jolt of energy when I get a new idea for a workshop, a group, a blog post. I love start-ups who have lots of questions and need lots of ideas to get their business started. I like working with clients who need a makeover too, new ideas to infuse their business with fire! I love to read and learn more about marketing, business and finance. I love to create a list of ideas and let my clients pick the ones that resonate with them, then focus in on those and make them a reality.
Focus
I often ask, "What's the plan?" I like to know where I'm headed, I need a clear destination. I set goals that serve as my compass, helping me determine priorities and make the necessary correction to stay on track. My Focus is powerful because it forces me to filter; I instinctively evaluate whether or not a particular action will help my client move towards their goal. Those that don't, we ignore. Having a Focus strength helps me be efficient naturally. During meetings and sessions, I am the one who brings the group back to focus on the task at hand. I have the discipline to balance my work and home life, business and family, community and travel. I enjoy roles where my clients give me independence. I build their trust so when they have an idea or a project to be completed, they can comfortably say, "Can you just take care of it?" They don't need to hold my hand and constantly check-in on my progress. They know I provide results, and do it efficiently. Having focus as a talent helps lead me to solid and long-lasting success.
Futuristic
This talent surprised me at first, but after I fully understood its meaning, I get it. Being Futuristic means asking the question, "Wouldn't it be great if…" I do love to peer over the horizon and am fascinated with what the future holds. What can be developed or invented by my clients? I am a dreamer and I love to learn about the vision my clients have for their business or organization. Visions energize me and, with my other skills, I can energize others too! Again, this is why I like new ideas, new products, start-ups and makeovers. I like to get the ball rolling. I love brainstorming about ideas to make them better, I inspire others with my ideas and images of the future. Some say I make a great coach and teacher. I love helping clients move forward.
So, if you are looking for a marketing person with talents like mine, I'd love to hear from you! AND…I'd love to know what your Top 5 Strengths are too so we can maximize our time together.
Learn more about StrengthsFinder and the Gallup Organization.
Michelle Aspelin, Entrepreneur and Professional Implementer
Mindshare Marketing & Implementation Services, LLC