5 Ways to Make Money Blogging
What's a blog?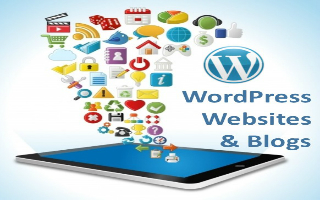 In very simple terms, blogs (short for web logs) are websites where a series of messages, or posts, on particular subjects are posted in chronological order—newest to oldest. Most have an area where blog visitors can post comments as well. Blogs are intended to be updated and read often. Some are solely informational, others are sales driven, and others are somewhere in between. This flexibility is just one of the reasons to choose a blog over a more traditional website more and more often. Previous Article I wrote about blogs.
I create blogs for my clients using WordPress. You can browse a few examples and learn more on my Website/Blog Services page.
For this post, I'd like to share some insight with you about making money with a blog, publishing models and traffic strategies. This is geared towards beginners and therefore its very simple and straight forward. I'll get right to the point and you can post your comments or questions below.
3 Steps to Starting a Blog
Build Your Systems. That includes products or services you'd like to promote, affiliate products you'd like to promote, and a way to capture your visitors, build your "list". I recommend using a third party vendor like Constant Contact or MailChimp for email marketing. Open Rate Tips post.
Create Content. Determine which type of blog you'd like to create, see below. Start to write your fantastic content and publish it on your blog.
Get Traffic. Connect with influencers and other bloggers who speak on your same or related topic. Get into forums and social media. Add comments on other blogger's posts.
5 4 Ways to Make Money Blogging
Sell physical products you have created like books, CDs, etc.
Sell services you offer like design services, coaching, consulting, etc.
Sell information products. Teach your users something, sell ebooks, access to videos and audios.
Sell affiliate products. Make a post and include a link to someone else's product who agrees to pay you a commission. This can be a standard article style post where you mention the product or you can review and compare several products with a link to all the affiliate sites.
There is one more way to make money with your blog, but I don't recommend it. You can sell your list of subscribers. Some choose this option, but make sure you disclose!
3 Blog Content Publishing Models
Expert Model. This is where YOU do all the writing. You are the teacher.
Host Model. Think Oprah. You showcase the talents of others, typically interview style.
Publisher Model. This style is for the networkers and connecters. Promote guest writers on your blog. Think Mashable. Good for business groups.
80/20 Rule. You should spend 20% of your time writing your blog posts and 80% of your time promoting and sharing your posts in order to make money from your blog.
3 Traffic Strategies
Forum Marketing. Get active in your topic and area of expertise on forums. Become an active community member on those forums. Be the expert.
Blog Comments. Find blogs related to your topic and start making comments. Be sure to have your Gravatar profile completed before you do. This will show your image/photo next to your comments on other people's blogs vs the generic avatar.
Social Media Marketing. This is the most obvious. Once you make your post on your blog, promote it by providing a link and some compelling copy to your Facebook page, LinkedIn profile, send a tweet, add it with an image to Instagram, etc. Remember, you can't sell or promote a business on a personal Facebook page, it's against their rules. Post it to a business page, then you can share that post on your personal page if you'd like, but I don't recommend doing it for every post. You can start private or public Facebook groups and post there, or find other groups and share with them.
So, this was just a quick list of things to consider when you want to make money with your blog. When I create WordPress blogs I add many search engine friendly keywords and fields to help out as well. You can browse my site for more Marketing Tips.
As always, call or email me with your questions. I'm here to help. It's what I do. I love to TEACH!
Michelle Aspelin
Mindshare Marketing & Implementation Services LLC
Cell: 952-484-6015
The info above is consolidated from a one hour learn to blog webinar I recently participated in. I watch and participate in these webinars and share info with my clients so YOU don't have to commit an hour (or more) of your time listening, and be subject to an expensive sales pitch. I hope you find the checklist useful and it sparks some actionable ideas for you!