How to Build a Profitable Networking Organization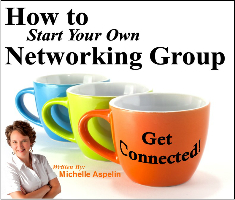 Everyone wants to succeed in their business venture. You don't need to figure out the best way to success by yourself. If you want to learn how to form a networking group, and make money doing it, you've come to the right place. Targeted Marketing and Partnerships are two of the keys to success. If you want to meet other entrepreneurs and potential marketing partners, learn how to run a networking group business. I give you all the tools you'll need to get started right away.
My ebook, How To Start a Networking Group and Make Money Too, explains HOW to start a group and make it a business. I guide you step-by-step on what to do first and HOW to do it. I provide you with dozens of downloadable documents you can customize for your own group like a Membership Application, Membership Guide Book, Sample Agenda/Meeting Format, Marketing Brochure, Brainstorming Topic Ideas and more.
If you invest in the ebook, you could be earning a PROFIT after signing up just 1-2 members, depending on what you determine for your Membership Dues. Plus, I'm available to help you customize the documents and forms if you need extra help.
To Learn More, click here!
Here's to your success!
Michelle Aspelin, Entrepreneur
Mindshare Marketing & Implementation Services LLC