FREE 30 Minute LEAP DAY Consultation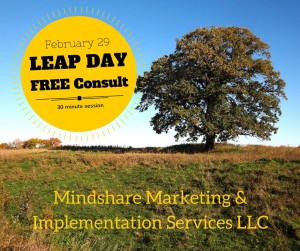 LEAP into your next project or idea with a FREE 30 minute Consultation only offered on LEAP DAY, February 29, 2016. Sign up for a 30 Minute Communication Consultation by completing the form on my website that tells me what you need right now for your business. At the end of the form, it will ask you for a couple of times that work for you and let's get it scheduled. We can meet in person at my Victoria office or via phone. Leap Day consultations are available from 9am to 5pm only on Feb 29, 2016. Booked already is 10-11am.
I will meet with as many people as I can fit into my schedule.
We can use the time to brainstorm on a problem you are facing, an opportunity you'd like to pursue, review your marketing plan, get tips and ideas for social media marketing and paid ads, talk about your LinkedIn strategies, whatever you need, just let me know. The faster you sign up, the more time I have to prepare for your FREE 30 minute consultation.
To get started, visit my Communication Consultation page and fill out the form!
I can't wait to see who wants to take advantage of this special Leap Day Consultation.
If you aren't available Feb 29, consider scheduling a regular consultation for another time. The FREE session is only offered for Feb 29.
Michelle Aspelin
My office is in the Clocktower Building in downtown Victoria MN
1750 Tower Blvd. Suite 200 Victoria MN
Phone: 952-484-6015