Business Tip for Starting a Business
If you are starting a business from home or you have a physical location outside of your home, NETWORKING is the key to growing your business. I remember when I was starting my own business, there was so much to do to get a business set up correctly. Then, once you are ready, you need clients and customers, and fast. You want to make money, right? That is why you start a business in the first place.
I was a real estate professional at time I started my first networking group. I simply asked women business owners I knew to join me for lunch. Lunch was fun, but not as effective as I wanted to help me grow my business. Over a year or so, we got a bit more serious and added structure and educational elements to our monthly luncheons. I knew we had the perfect agenda format when I left every meeting saying that was time well spent. The feedback I got was exactly what I wanted to hear, it was WORKING for them. Appointments we being set, referrals shared, and we were learning about new strategies to grow your business, as well as building a solid support network.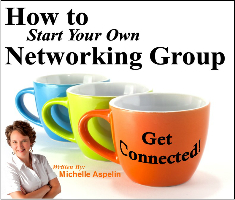 Around that time, another Realtor asked if she could start a group like mine. Since our groups are one person per industry, I agreed to help her start one herself. So I wrote down how we got started, the "rules" of the group, why our format is so effective, created a formal application form and a handbook for all of this information. It was a lot of work initially, but well worth it.
Once I was done, I now had a SYSTEM I could not only share with her, but with everyone who wants to grow their business through effective networking. Industry specific networking groups fill up fast for Realtors, Loan Officers, Chiropractors, Financial Planners and Insurance Agents. If you've wanted to join a group but it is "full", consider starting your own networking group. Why not give it a try? I make it so easy for you!
In my ebook, I not only tell you how to set up a group yourself, or with a team, but I give you all the tools you'll need to be successful like an application form, a handbook, a time-tested agenda, a brochure, brainstorming topics and more. You can get started right away and set your fist meeting for a month from now. Really, it can happen that quickly!
"Women In Networking has not only been great for referrals, but also for learning different aspects of business from other women.  I love the camaraderie and support from other business women.  I look forward to our monthly lunch and laughter!  I talked about our Chapter so much that a girlfriend of mine wants to start another Chapter in another area of the state!" ~Dr. Becky Pauly, ABC Family Chiropractic
In my ebook, I also explain how creating networking groups can be a business itself. When you act as the administrator of the group, a portion, or all, of the membership dues comes to you. You can have multiple groups, or chapters, as I call them in my ebook. Your primary business is helping others connect and grow their business. Its extremely fulfilling work and we all want to make money doing something we love, right? You can earn as much as you want. You can fit it into your current life on your own terms.
Learn more by purchasing the ebook and all the downloads that come with it. I guarantee you'll be impressed with everything you get! Plus, if you want additional help, I can walk you through it personally and even help with your brochure and website if you'd like. Its up to you. Take the first step.
Here's the link to Starting A Networking Group ebook, check it out!
Michelle Aspelin
Mindshare Marketing & Implementation Services LLC
How to Start A Business Networking Group, and Make Money Too! ebook